The main functions of our AutoCRM system
The description only applies to the basic functions of the AutoCRM system. Modeling and adding other entities in the system is part of the implementation.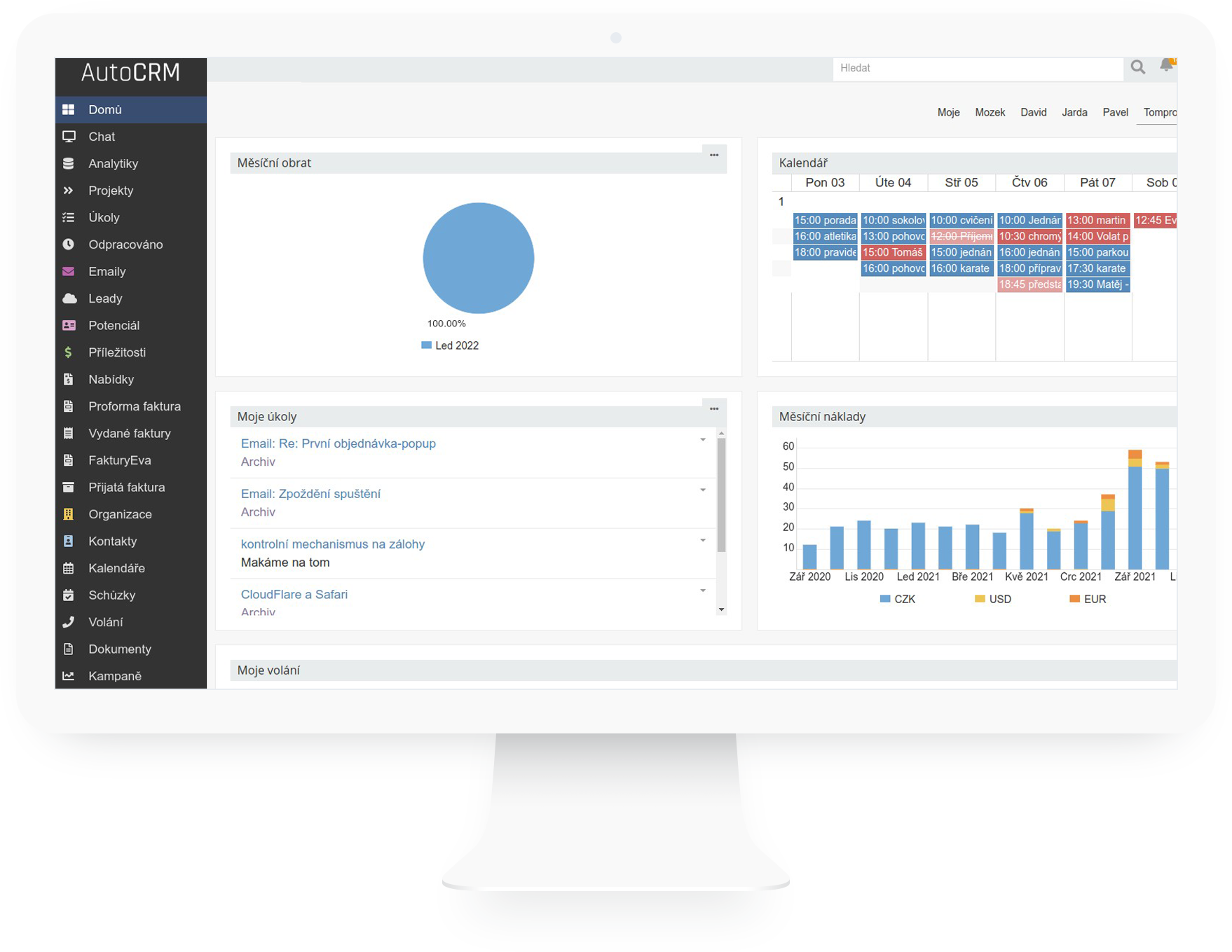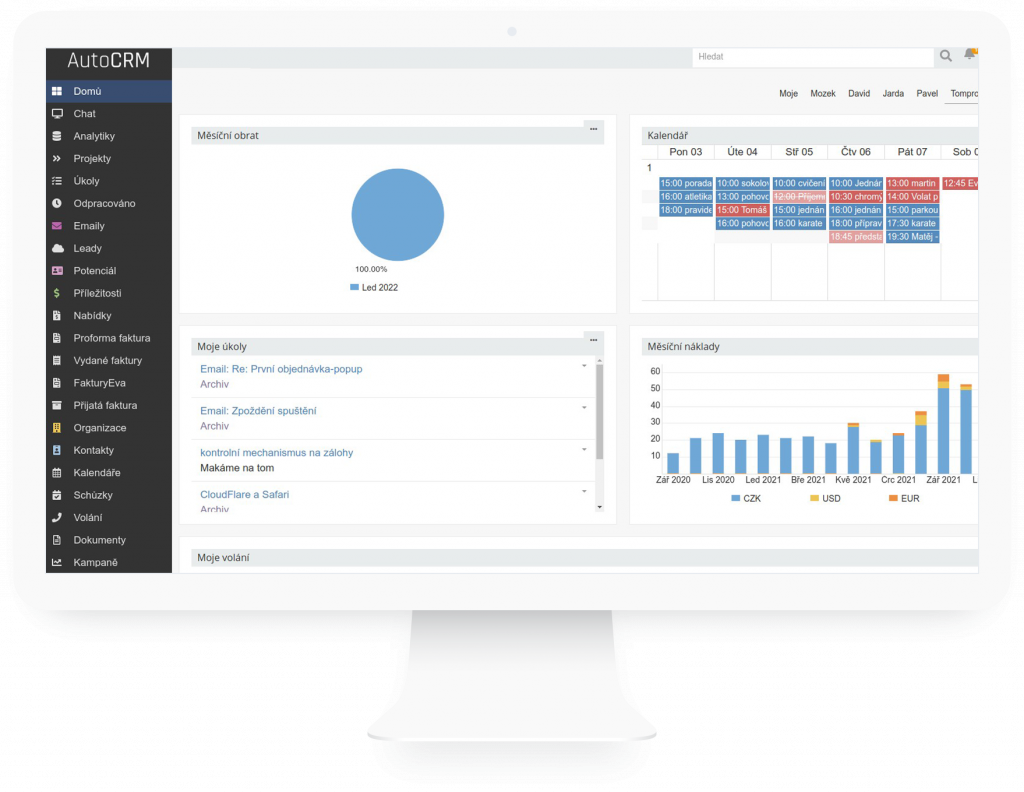 Propracovaný CRM systém do posledního detailu Vám umožní mít na jednom místě všechny informace včetně e-mailové komunikace.
Budete mít kompletní přehled nad svými zákazníky, partnery či dodavateli. Vše na jednom místě.
Správa dokumentů integrovaná uvnitř našeho systému, připravené ve své plné síle.
Dokument systém může být jak jednoduchý a Vy jej můžete využívat přímo v systému, tak i sofistikovanější.
Záleží co od systému očekáváte. Vše implementujeme na míru Vašim potřebám.
V CRM systému najdete také newsletter systém, který Vám nahradí klasické nástroje na rozesílání newsletterů.
Díky němu můžete přesně vidět, na které produkty Váš zákazník kliká a pokud se jedná o potenciálního zákaníka, tak ihned vidíte přehled o tom, co s ním bylo do této doby komunikováno.
AutoCRM má dokonale propracovaný reportovací systém.
Z každé entity si můžete udělat stastistiku a graf. Každý uživatel má na wvém dashboardu reporty, které jsou důležité právě pro něj.
CRM obsahuje skladový systém, díky kterému máte přehled o Vašich skladech a jejich pohybu. V kombinaci s fakturačním systémem pak máte kompletní naskladňování a vykladňování.
Skladový systém, který pokryje všechny Vaše potřeby.
Zefektivnění komunikace mezi pracovníky výroby a pracovníky procesu zakázky (obchodníci, manažeři, skladníci).
A pracujte s vašimi daty přesněji a účinněji než kdykoliv předtím. Zpřehledněte celý proces výroby.
V open-source AutoCRM najdete i kompletní fakturační systém. Máte tedy všechny informace jednoduše dohledatelné přímo u každého Vašeho zákazníka. Vše přehledně, komplexně a jednoduše.
A navíc vše se přizpůsobí i Vašim specifickým požadavkům. Jednoduše v NoCode AutoCRM.
Software jako tento je nezbytnou pomůckou každé firmy, která chce vydobýt ze všech sfér své činnosti maximum.
Ganttův diagram, kanbanboard, správa projektů nebo entita odpracováno jsou ideláním pomocníkem v oblasti projektového řízení.

Potřebujete firemní systém s promyšleným provizním systémem, který je i napojený na eshop?
Potřebujete aby vše společně komunikovalo.
Systém se sklady, provizním systémem, sklady u každého obchodníka, účetním systémem, grafy pro vedení společnosti a další.
AutoCRM lze propojit i s Vaším eshopem, který můžeme taktéž vytvořit.
Opět se jedná o open-source platformu s širokou škálou již hotových pluginů. Nové funkcionality na míru Vám ráda doprogramujeme.
PIM –  správa produktových dat je systém správy všech informací potřebných k uvádění produktů či služeb na trh a prodeji produktů prostřednictvím distribučních kanálů.
Vložená data, ať už nahraná nebo zadaná ručně, automaticky zpracuje, dle Vámi nastavených pravidel. Zpracovaná data pak rozesílá nejen do Vašich kanálů – e-shop, srovnávače zboží, tabulky…
Plánování podnikových zdrojů (ERP) je software, který podniky využívají ke správě každodenních obchodních činností, jako je nákup, sklady, faktury, projektové řízení, řízení rizik a dodržování předpisů a operace dodavatelského řetězce.
Tento integrovaný systém funguje jako podnikové centrum pro komplexní pracovní tok a data a umožňuje přístup různým oddělením.